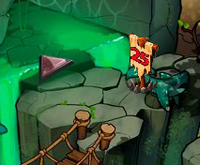 | | |
| --- | --- |
| Location: | Spring Village |
| Difficulty: | 25 |
| Rooms: | 7 |
| Enemies: | 181 |
| Battles: | 37 |
| Min Experience: | 9520 |
| Max Experience: | 12022 |
| Average Enemy Level: | 51.309 |

| Room | Amount | Enemy | Level | Exp | Base Drop Rate | Item | Weapon Type | Weapon Level |
| --- | --- | --- | --- | --- | --- | --- | --- | --- |
| 6 | 1 | Death Crab | 55 | 173 | 10.000% | Turtle Totem | | |
Requirements
Gas Mask
To access this dungeon, The Gas Mask quest must be completed to attain the Gas Mask, which must also be equipped. It can be equipped by clicking it in the inventory, then clicking save.
2 Sturdy Steel Keys
Within the dungeon is a gate that requires 2 Sturdy Steel Keys in order to open and progress through the dungeon.
There are eight Poison Pools in the Poison Cave.
Poison Pool
Cleaning the Pools
Each pool can be cleaned by clicking upon it while having one Jar of Ultra-Pure water. This is removed from the inventory and replaced with an empty Jar.
Room 4: Poison Chest - not locked (empty)
Room 4: Large Poison Chest - unlocked by cleaning the 4 Poison Pools in this room
Room 5: Poison Chest 2 - unlocked by cleaning the 2 Poison Pools in this room
Ad blocker interference detected!
Wikia is a free-to-use site that makes money from advertising. We have a modified experience for viewers using ad blockers

Wikia is not accessible if you've made further modifications. Remove the custom ad blocker rule(s) and the page will load as expected.