Introduction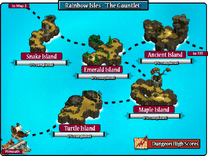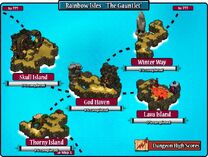 The Rainbow Islands, also known as The Gauntlet, are a group of areas accessed via the docks on the east side of Plimouth. Each island contains four dungeons (except Skull Island, it contains 5), each of increasing difficulty. There are 2 types of islands: the first, "Normal" (via leftmost ship), where your health refills after each battle, and the second, "Endurance" (via rightmost ship), where your health does not refill after each battle, which adds an extra challenge. Upon completing a dungeon, a corresponding "Island Badge" is awarded to your profile.In order to go from one island to another, one must return to the ship and back to Plimouth. Map 2 access is gained after getting the key in the chest located in Snake Island, Dungeon Level 95, Floor 5. Completing the dungeon is not necessary in order to get the key. To the Right of Map 1 is Map???. There are two more Map???s in map 2, meaning a possible 5 maps.


Rainbow Isles - Normal
Rainbow Isles - Endurance
Ad blocker interference detected!
Wikia is a free-to-use site that makes money from advertising. We have a modified experience for viewers using ad blockers

Wikia is not accessible if you've made further modifications. Remove the custom ad blocker rule(s) and the page will load as expected.