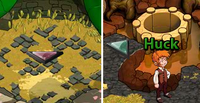 | | |
| --- | --- |
| Location: | Plimouth West |
| Difficulty: | |
| Rooms: | 10 |
| Enemies: | 208 |
| Battles: | 49 |
| Min Experience: | 17478 |
| Max Experience: | 22071 |
| Average Enemy Level: | 48.365 |
| | | | | |
| --- | --- | --- | --- | --- |
| Reachable from: | Leads to: | Reachable after: | Unreachable after: | Item Equipped: |
| Plimouth West | Sewers  •  Room 1 | | | |
| Overgrown Path | Shrine  •  Room 1 | Complete quest Apoidea's Stand or complete quest Replace the Stone. | | |

Walkthrough
The Sewers have 2 different entering points. The first and obvious entrance is located in Plimouth. Access beyond room 1 is granted after using Machine Oil in room 1. The door in room 2 opens after obtaining the Summer Crest, and players can proceed without clearing the battles.
The second entrance is located in the Overgrown Path area. The entrance is an unmarked "dungeon entrance" arrow close to the marked soil spot. This entrance leads to a room with several battles containing revenant class monsters of levels 55-60, map: Overgrown Path Shrine, area 1. Players enter at the south-west corner. In the north-east corner is the Spring Crest Door. The door opens, consuming the Spring Crest. Players can proceed without clearing the area.
Beyond the door lies another chamber with a chest and more battles, map: Overgrown Path Shrine, area 2. At the end of the room stands the Fall Crest door. Beyond this door lies the final Overgrown Path Shrine area with another chest, map: Overgrown Path Shrine, area 3. Here the player finds a sacred lamp, which delivers the message about "navigating dark corridors ahead". At the end of the room a purple arrow suggests another room, but deceives the player. Clicking this arrow will place the player in front of the Summer Crest door mentioned above.
Enter the labyrinth chamber beneath Plimouth sewers with the sacred lamp, and a new portal arrow will appear at the south-west corner of the area. It can be accessed without clearing the area, but it's advisable to do so in both shrines nontheless - if you die in the shrine chambers, the following battles will be short and painful. The new path leads to the single NPC in this area, the winter revenant Sorrow. He is guarding another door with the crest of seasons. The battle contains 2 Sorrows lvl 80 and some other revenants for good measure. Defeating Sorrow will make him admit that you are not the first to pass the gates behind him. He will prompt the player to stop the forces of the "web-weaver" and protect the shrine's secret. Pass Sorrow and enter the central shrine, map: Plimouth Shrine area 3. The final battles wait. Defeat the Maiden and see and old aquaintance, Lizzie. In case you've forgotten the Warden's diary, and if the place and Sorrow's parting message didn't warn you, the "axe crazy" look (pun intended) should drive the point home. Beat her, save the world (for now).
Maps
Ad blocker interference detected!
Wikia is a free-to-use site that makes money from advertising. We have a modified experience for viewers using ad blockers

Wikia is not accessible if you've made further modifications. Remove the custom ad blocker rule(s) and the page will load as expected.